S
terling silver jewelry is a popular trend in the fashion world because of its versatility, elegance, and affordability. To most jewelry enthusiasts, well-cared for sterling silver is indistinguishable from white gold - but is available at a fraction of the price. The polish and shine of sparkling silver can accent your favorite look and dress up a mundane wardrobe with affordable elegance.
Our exquisite collection of sterling silver jewelry is made from SOLID 925 Sterling Silver Sterling silver is an alloy of silver containing 92.5% pure silver and 7.5% other metals, usually copper. The copper gives the alloy strength while maintaining it's malleable properties with the high precious metal content. It is the malleable property of silver, or it's ductility, that makes it an easy metal to work with. This means it can be easily formed and shaped into the beautiful designs that you can see in our collection.  Our wonderful collection of Sterling Silver jewelry incorporates different types of seashell. The segments of shell are cut according to the design of the piece and then inlaid into the sterling silver.  Principally, our collection incorporates Shiva Eyes shells, Rainbow Abalone shells, White Mother-of-Pearl, Black Mother-of-Pearl, Red Coral, South African Turban shells and Turquoise. 
9
25 is the hallmark which indicates the purity of silver in our hand-crafting of every piece.

 

This is to ensure our highest quality of sterling
silver jewelry. The "Hallmark" or stamp of sterling silver varies from nation to nation. For example, British sterling silver incorporates quite a detailed system involving a lion passant to signify the purity of the silver, a letter to indicate the date of manufacture, and finally a symbol was stamped to denote the city of origin.  For example, a certain style of crown was used to indicate that the piece was manufactured in Sheffield, England.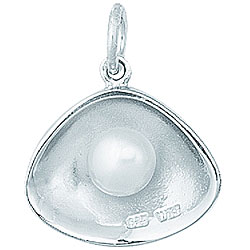 Some other countries did not adopt a national hallmark as such for their sterling silver and
simply
preferred the word "STERLING" or "925".
It is these hallmarks that you must look out for when purchasing sterling silver jewelry because the
925
will tell you that you are buying the real thing.
At
She Rich Seashells
we are proud to say that all of our jewelry is made from solid
sterling silver
and is stamped with
925
to denote this.
Even the fixings on the jewelry and the chains are all
925
.
Learn more about:  Custom Made Service